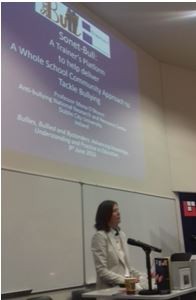 On June 9th the Multiplier Event in Ireland of SONETBULL platform took place in the Context of the National Anti-Bullying Research and Resource Centre Conference 2016 titled "Bullies, Bullied and Bystanders. Advancing Knowledge, Understanding and Practice in Education", at Dublin City University Presenters where members of the project consortium:
Dr. Mona O'Moore, Ifigeneia Sotiropoulou, and Lian McGuire
The session "Sonetbull European Platform for Bullying Prevention and Intervention" was divided into two parts; one theoretical and one practical.
At the first part of the session Dr. Mona O' Moore presented the theoretical background of the whole school approach, which was the fundamental theory of the project. Secondly, Ms Ifigeneia Sotiropoulou presented the training procedure and the peer learning methodology as it applies in the training. At the second part, Ms Lian McGuire gave a demonstration to the SONETBULL platform and its tools, learning objects etc.
More than 50 participants attended the SONETBULL session, among them there where teachers, trainers and researchers.
.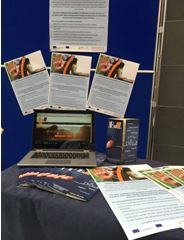 The workshops are aimed at training teachers, headmasters, parents, coaches, and experts that wish to learn more about bullying and understand its causes as well as which strategies can be implemented to prevent and contrast it, especially in school.
Moreover, a panel with SONETBULL project dissemination material had been set up during the days of the conference, in Dublin City University, for the further information required by participants who were interested in the project. .