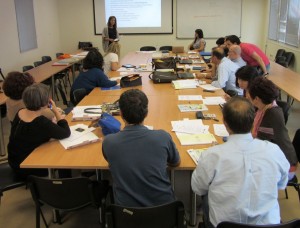 Between September and December 2015, the DAISSy research group at the Hellenic Open University organized 6 training sessions on innovative practices to combat bullying in schools. The trainings took place in the premises of HOU in Patras and Athens, in the context of Erasmus+ project SONET-BULL (Using social networking ICT tools with peer learning and crowdsourcing techniques to train school communities on how to deal with student bullying), coordinated by Achilles Kameas, Associate Professor with HOU and leader of the DAISSy group.
The trainings were aimed to stakeholders of the school community, including teachers, schoolmasters, consultants, trainers, parents and representatives of regional authorities, who will form the group of Greek Core Users of the project. The topics included identification of bullying types, strategies for dealing with bullying, exchange of experience and best practice, and training on using the anti-bullying platform developed in the project. Each participant received training material about the definition of bullying, the types of bullying, the gender differences and discussed the consequences of bullying and strategies to identify and deal with it with the Greek National Moderator of the project, Ms. Ifigeneia Sotiropoulou.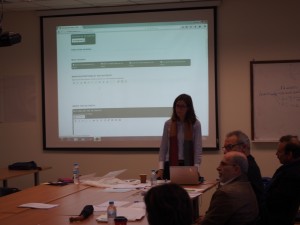 Participants worked in groups in order to were analyze the anti-bullying strategies and present the outcome to the entire group of Core Users. In addition, the SONET-BULL anti-bullying platform, a unique platform which provides timely and continuous support to the community of stakeholders in dealing with school bullying, was demonstrated by Computer Technology Institute. The Core Users had the opportunity to explore it, experiment with the tools and services of the platform, and share their experiences from real life situations.
As a follow-up activity, the trainees are now using the online training platform of the SONET-BULL project to upload learning material that can be used by other users who want to be trained on methods in dealing with school
bullying.