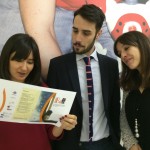 On 13th of February 2015 Fondazione Mondo Digitale hosted at Rome Città Educativa the first National Conference on Flipped Classroom. Professor Tullio De Mauro, distinguished linguist and innovative didactics expert inaugurated the conference discussing the potential of flipped learning.
During the event Sonet-Bull project was presented to the teachers proposing its strategy to combine modern pedagogical approaches (eLearning and
peer learning) with widely used technological means (Internet, social networking, mobiles) in order to provide timely and continuous support to the entire community of stakeholders in dealing with school bullying.
Fondazione Mondo Digitale will maintain contacts with teachers and head teachers to discuss the schools participation in the project during the upcoming months.